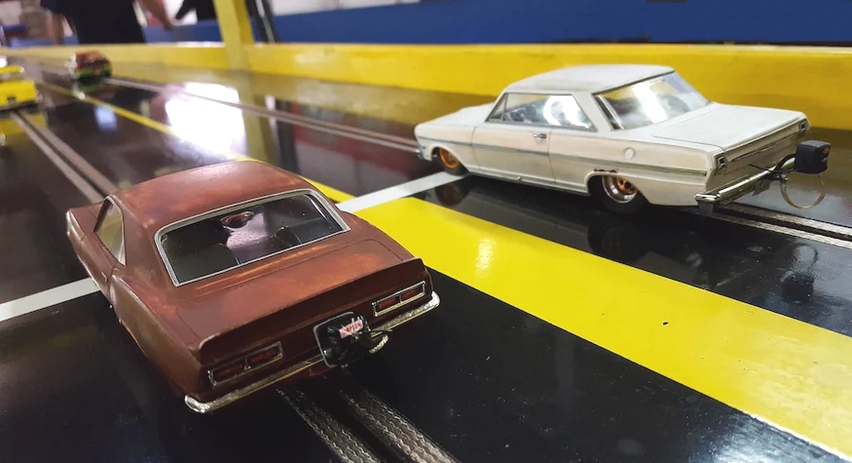 0 to 140 mph in 0.391—These Aren't Your Toy-Store Slot Cars
What goes 0-140 mph in less than a second? Jeff Lutz's Camaro? How about Antron Brown's Top Fuel dragster? What if we told you neither; but in 55 feet—a 1:24-scale quarter-mile—some of the quickest and fastest slot drag cars in the world will reach triple-digit speeds in less than half a second.
Using scale 55- and 27.5-foot tracks for quarter- and eighth-mile racing, everything happens about like you'd expect in real life—there's a class structure based on weight, body construction, motor type, tire width, and more. Some of the fastest slot cars we could find were in the AA/FC class, which run the 55-foot scale quarter in about four-tenths at more than 130 mph, with the class record belonging to Michigan's Dave Nap with a staunch 0.391 at 140 mph. To bring that back up to full-scale perspective, even today's Top Fuel missiles aren't 60-footing near that!
1. Like in full-scale drag racing, weight and ballast are critical details. Lead wheel weights serve duty here to tweak the handling.
2. The brushed motors used in slot-car racing might use some traditional tech compared to modern brushless motors, but with hi-po units screaming at 30,000 rpm, no one is complaining—yet.
3. A simple ring-and-pinion arrangement transfers power to a solid axleshaft, though the motors can sit longitudinally or as transverse "side winders."
4. Foam tires are used, though class rules dictate width and diameter, among other factors.
5. Chassis are typically built from spring steel, though brass construction is still regularly practiced. Chassis can use hard-tail or "slip-joint" rear suspension, while wheelie bars are class dependent. MDRL has seen a rise in the no-bar chassis as of late.
They aren't running the slot-car chassis you've grown up with. Many are homebuilt and hand-soldered out of brass, stainless steel, and spring steel wire and tubing, but there's also a wealth of off-the-shelf options to choose from both in kit and fully assembled forms. Wheelie bars are optional, with a recent trend for no-bar cars, and suspension is optional. The open-case, slot-car motors directly power the solid rear axle through a simple ring-and-pinion arrangement and are traditional brushed-type motors, though they come in myriad configurations, depending on class and budget. Foam tires are regulated by the class for diameter, width, and compound—there's even slot-car pimp juice for added traction, with every racer having his or her own method of prep at the line.
Then there's the competitive edge: All of your popular racing formats are present, from heads-up racing to bracket, with the larger events garnering hundreds of entrants. Sometimes the jargon crosses over into full-scale territory, where "running 11s" means running 1.1XX, but as you watch the racers prep and line up their rail-powered drag cars, the rush starts to feel the same. There's a bevy of racing series as well, like the Midwest Drag Racing League (MDRL) and Slot Drag Racing Association (SDRA), though the United Scale Drag Racers (USDR) rules are considered the template.
The real allure for us is the crazy amount of detail these slot racers have started building into their projects. Parachutes are handmade with minute rip cords, tethers, and chute bags; tiny turbos hide behind miniscule grilles and macaroni-sized, bull-horn exhausts shoot from bumpers left and right. Some guys have even recreated their own Drag Week machines, with small-scale likes of Jeff Lutz's Bel Air, Larry Larson's S-10, Bryant Goldstone's Javelin, Joe Barry's 210, Eric Yost's Camaro, and Shane McClelland's Crusty Nova duking it out any night of the week.
Slot-car drag racing gives fans an approachable way to interact with the motorsport or to relive eras past and prior and sometimes to alter reality as we know it. Imagine you could "own" Jungle Jim's Vega and race it against John Force's old Cutlass? Sure, it's a matchup that never could've happened, but that's what makes scale drag racing a hit. As MDRL racer Lonnie Schultz put it, "Imagine Reher-Morrison lined up against Bob Glidden in a modern Pro Stock battle."
We'll keep dreaming, or maybe we'll just have to track down a 55-foot dragstrip one day.