Drag Racing Photoelectric Beam or IR Detector Track Sensors 9 volt 1-30 Foot Range
$27.95
DIA's Racing Track Sensors and Detectors you pick. IR Light Beam with Mounting bracket comes with 1 x IR light powered by 9 Volt Rechargeable 900mAh battery (Not included). This is ONLY the IR beam not the Wireless RX/TX unit. To be used on the outer side of race track and aimed at the IR Detector Sensor. If plugging into our Wireless Racing Track System you will need 1 x IR Detector for each lane. Sensors can be set from 1 ft up to 30ft distance depending on alignment and lighting conditions. Has slot for mounting to a thin board and adjustable right-left if needed. We recommend using our 9 Volt Rechargeable Batteries pack with Charger for the IR beam unit and our NiMh Charger for the IR detector batteries. Example order: 1 x IR beam, 1 x IR detector. PRICE IS FOR 1 unit, Please order # of units separately and drop into the cart then order the other type if needed. If unsure what to order please read Description page HERE.
Specifications:
Product Name
Drag Racing track IR Light Beam
Sending Light
Infrared Rays
Model
DIA-IR9-T3N1
Type
DC 3/2 Wire NPN NO (Normal Open)
Opposed/ Through Beam IR Type
Voltage
DC 6-36V
Current
10mA for IR and  ?? for WTS
Sensory Distance
1-5m / 1-30ft
Head Diameter
1.6cm/0.6"
Body Size
2.4 x 7cm/0.9" x 2.8" (Max.D*L)
Material
Plastic
Color
Yellow, Black, Gray
Cable Length (Each One)
1.2m/47"
Weight
112g
Package Content
1 x IR Lights unit
PLEASE ADD EACH SENSOR SEPARATELY INTO CART ! See picture after selection to see item.

Description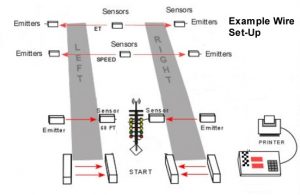 Additional information
| | |
| --- | --- |
| SENSOR TYPE | IR BEAM, IR DETECTOR |